After 2 years, The Coldest Water Flip Top Insulated Cap is finally here. It was initially built for Professional Athletes in high-performing sports.
We believe in taking cold water on the go wherever you are, whether you're biking, cycling, running, jogging, or going to the beach. This cap allows you to drink effortlessly with one hand. Simply flip the top, and drink water from it. It is BPA and Latex Free, and easy to clean.
Rubber Flip Top Bacteria Resistant: The flip top has a unique tab that allows you to push it without your fingers touching the mouth piece.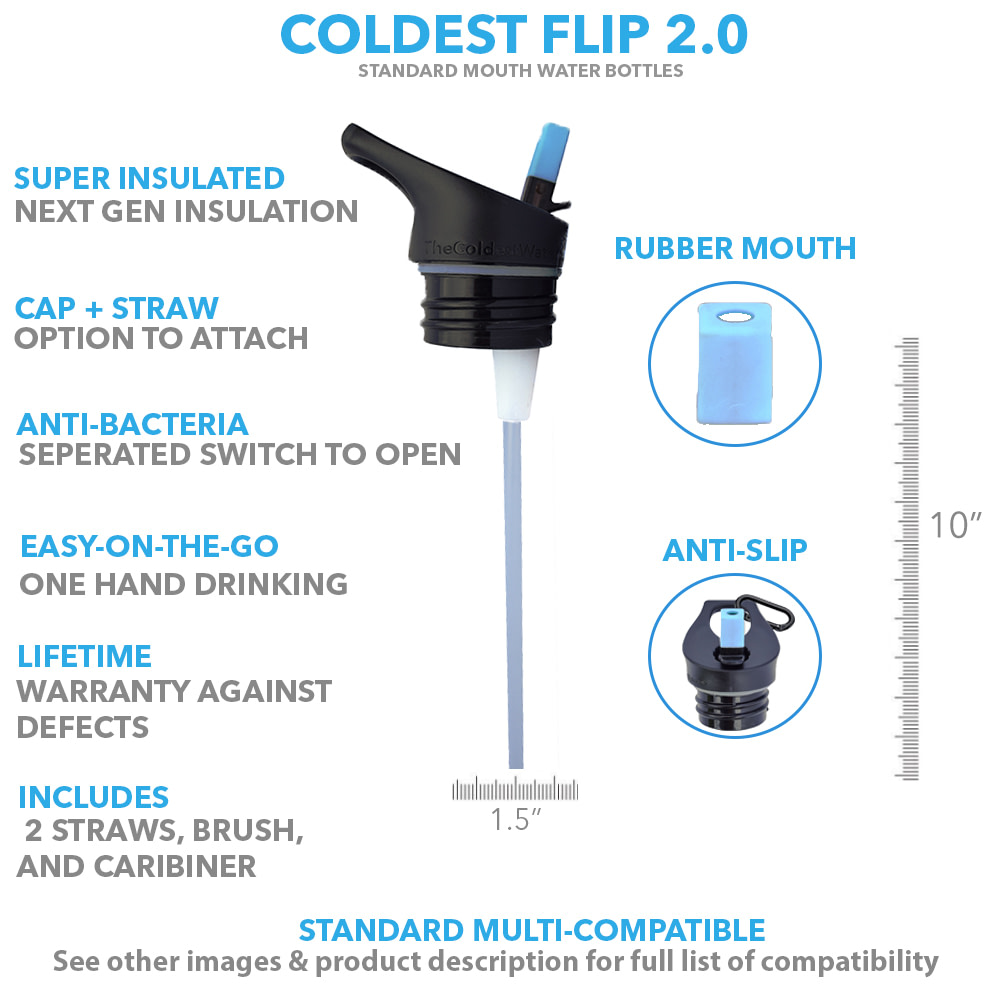 WORKS WITH ALL STANDARD MOUTH BOTTLES – SEE COMPATIBILITY
We believe in multi-compatibility, so we've extensively tested this with The Coldest Water Bottle, as well as other Stainless Steel Bottle Brands.
VERIFIED COMPATIBILITY WITH:
The Coldest Water Bottle, Hydro Flask Standard Mouth Bottles, Klean Kanteen Classic Mouth Bottles, Rehydrate Pro Standard Bottles, WaterVault Water Bottle 24 Oz Only* Bottles
POSSIBLE COMPATIBILITY:
Stainless Steel Bottles with 1.75 inches inner screw mouth diameter.
INCOMPATIBLE / DOES NOT WORK WITH:
Hydro flask Wide-mouth Bottles, Hydro flask Narrow-mouth bottles, Widemouth Bottles. Narrow-mouth bottles, WaterVault K2/Soda Bottles. Klean Kanteen Soda Bottles
THE COLDEST STORY
"Most products you have are average. We hate that. When we build a product, we look to re-think how we can do it better, colder and more superior. We are an elite team of engineers based in Naples, Florida working day and night to invent the coldest, most superior products. 5 years later, and many patents filed, The Coldest Bottle, and The Coldest Ice Packs were born. Some call it 'gamechanging' but we just want to build products we are proud of, that we love and use every day, which ultimately, create less waste for the planet.
Join the war against our one true enemy, hot."